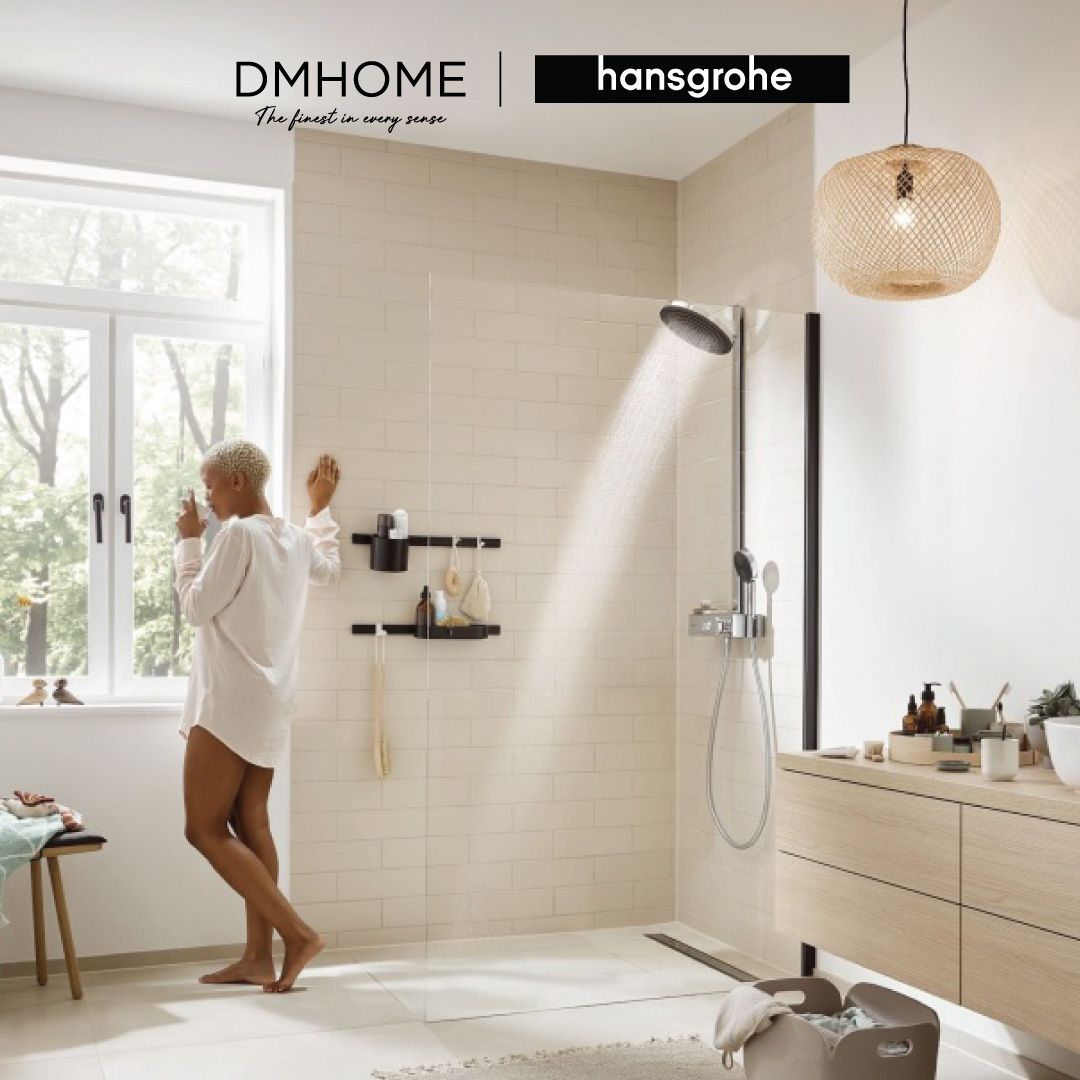 Hansgrohe Modern Design and High Quality Bathroom
10 Jun '21
Hansgrohe bathroom products create a sense of timelessness to all beholders. Internationally recognised as a superior bathroom brand, Hansgrohe has accumulated a rich experience of ultra-modern bathrooms to enrich the lives of people all over the world.
Established in 1901, Hansgrohe has embodied a true pioneer spirit of its German founder, Hans Grohe, whose craftsmanship and design set the trends for many decades to come.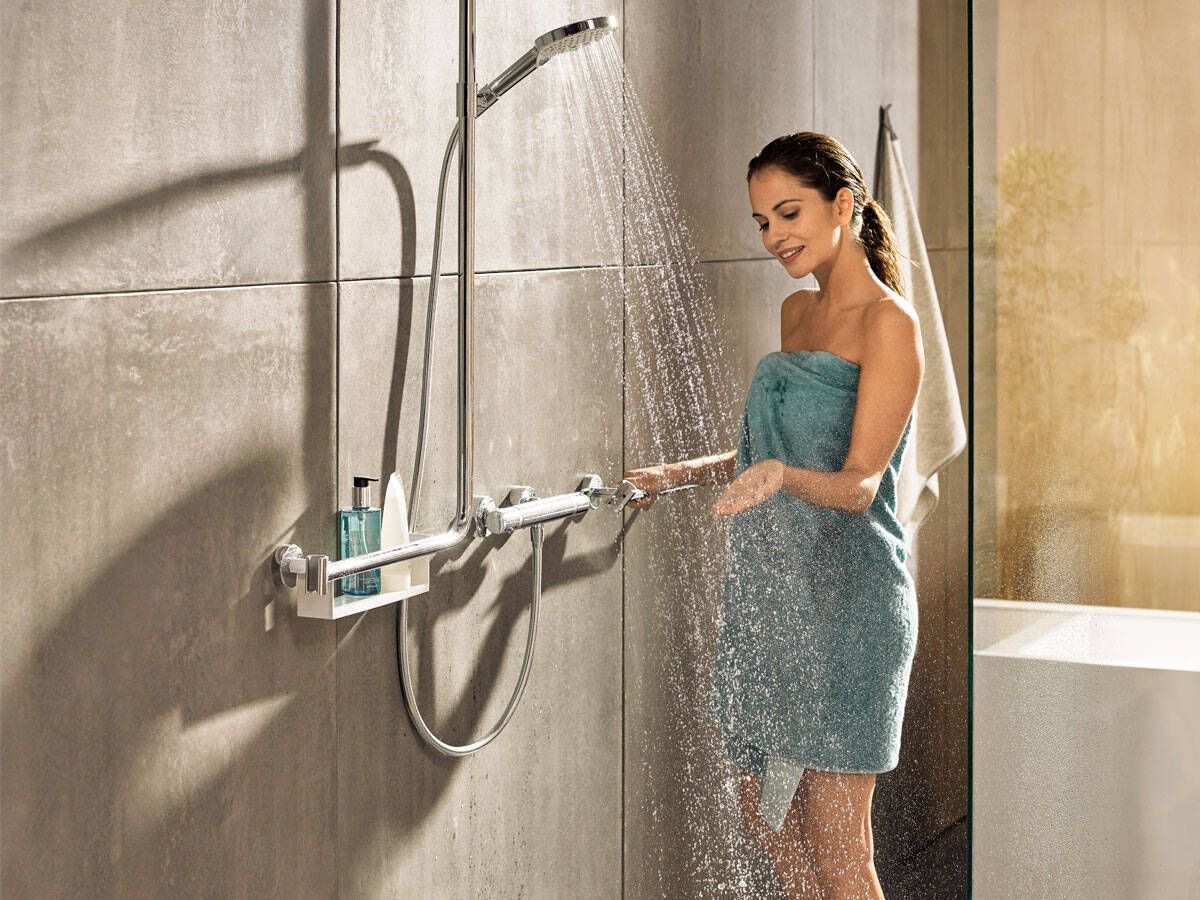 From Classic to Modern Innovations
Always one step ahead of its time, Hansgrohe has revolutionised bathrooms by introducing countless groundbreaking inventions. Many have become milestones in international bathroom culture to this day, challenging even the flow of time itself.
In 1928, Hans Grohe invented the first affordable hand shower, the creative alternative to the then customary overhead shower. He then proceeded without hindrance to create the shower rail which the hand shower can be attached to at any height. Both astounding ideas have been integrated into the standard bathrooms all over the world these days.
In 1968, the introduction of the Selecta shower head transformed the weekly bath day into a shower experience. For the first time, an adjustable showerhead allows users to switch between gentle and invigorating sprays. The profound impact and classic design have placed this first showerhead as Hansgrohe Group's unrivalled bestseller with more than 30 million units sold to this day.
Today, Hansgrohe is still enthusiastic about providing compelling products. The range expands to digital showering products which offer an unprecedented experience with water to give your home its unique charm.
RainTunes is one of the lastest iconic pieces that demonstrate Hansgrohe supremacy. The bathroom of the future is here. Hansgrohe combines water with sound, light, imagery, and fragrance to make your bathroom a precious place where one can take refuge from the chaotic life.
Here are a few of RainTunes highlights: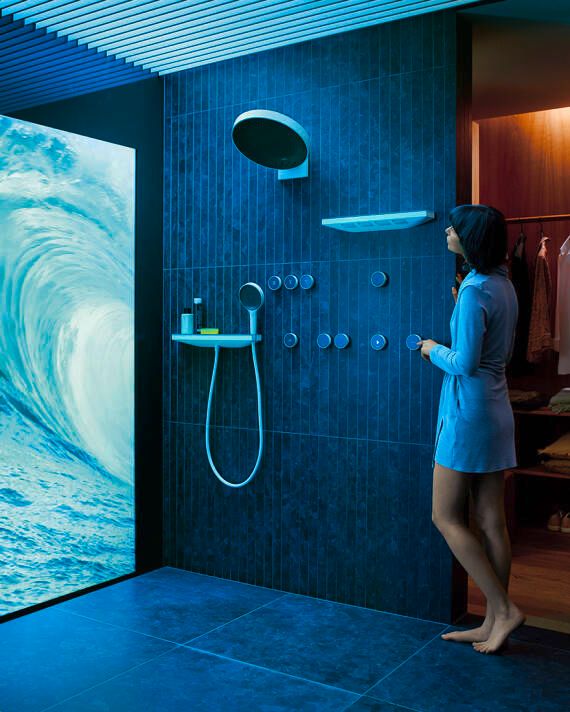 RainTunes
Let your mind drift along a stream of consciousness with specially composed soundscapes, choreographed water rhythms, and coordinated picture sequences on the screen. Seven individual shower programs are ready to indulge your mood, from 'Good Morning,' a gentle sunrise to invigorate your soul for a new day to 'Good Night,' a slow down with soothing lighting, delicate aromas, and water droplets on the skins.
Adding freedom to your bathroom experience, RainPad is a central digital control panel that enables you to adjust the temperature and spray strength by using the rotary dial. You can immerse yourself even further into your showering experience by using the RainScent shower tab. Lavender, pomegranate, bergamot, silver fir, and rosemary citrus are meticulously created by experts for your choices.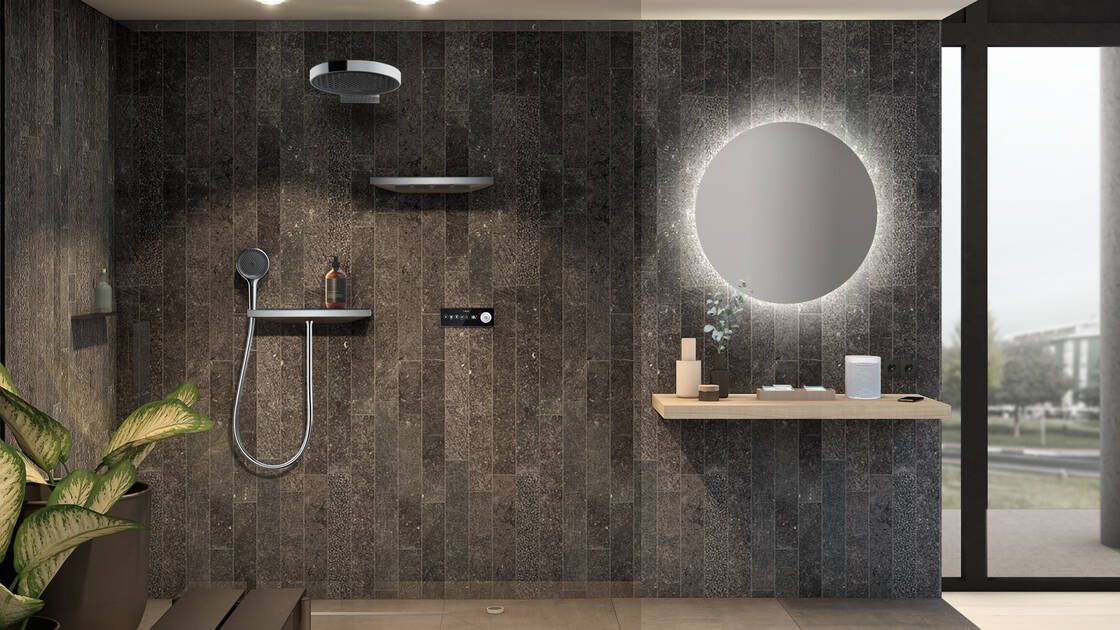 RainPad
Last but not least, RainButton is a new flexible and intuitive control system, allowing you to control the spray type, temperature, and amount of water at the touch of the button. Connected by Bluetooth, it can be installed wherever you prefer. For the first time in history, it's possible to separate operations from the water system.
All smart functions are refined to the utmost convenience by Hansgrohe home app. Restart the wellness experience each day at the touch of a button, simply by using a smartphone to seamlessly control your bathroom with ease.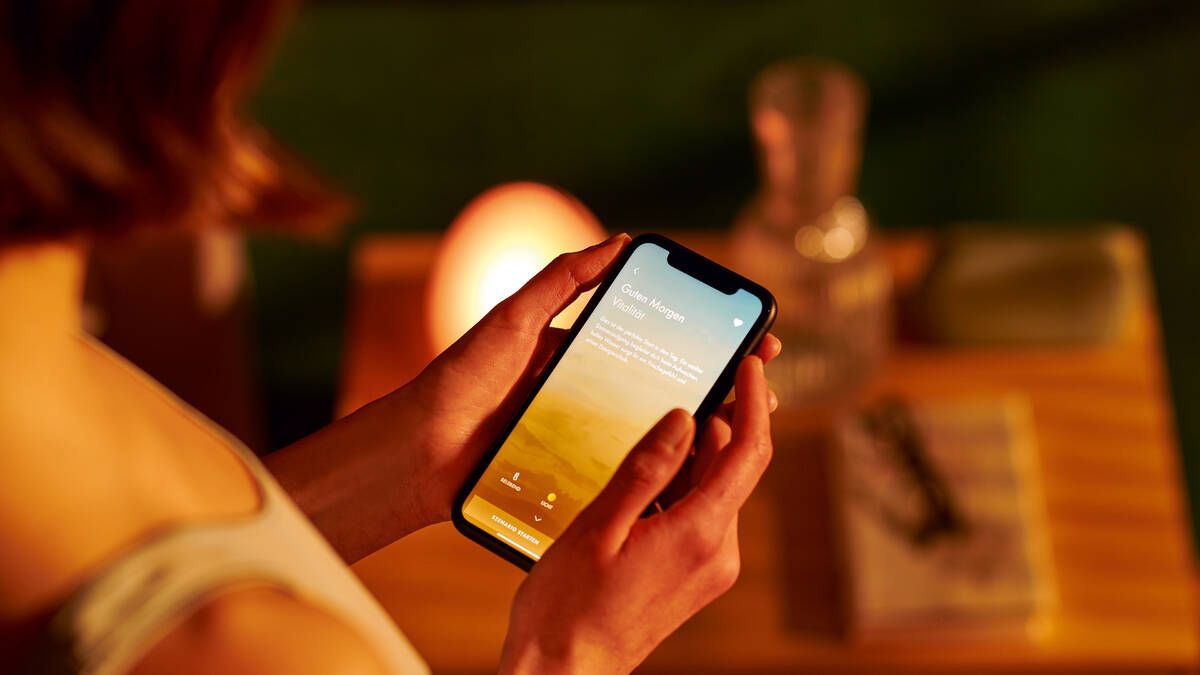 Hansgrohe home app
Philosophy of Quality
Consumers can expect the highest quality in material, form, and function from Hansgrohe premium quality because Hansgrohe's standards are high. They perceive "quality workmanship" to mean far more.
Here are the three pillars of Hansgrohe's quality: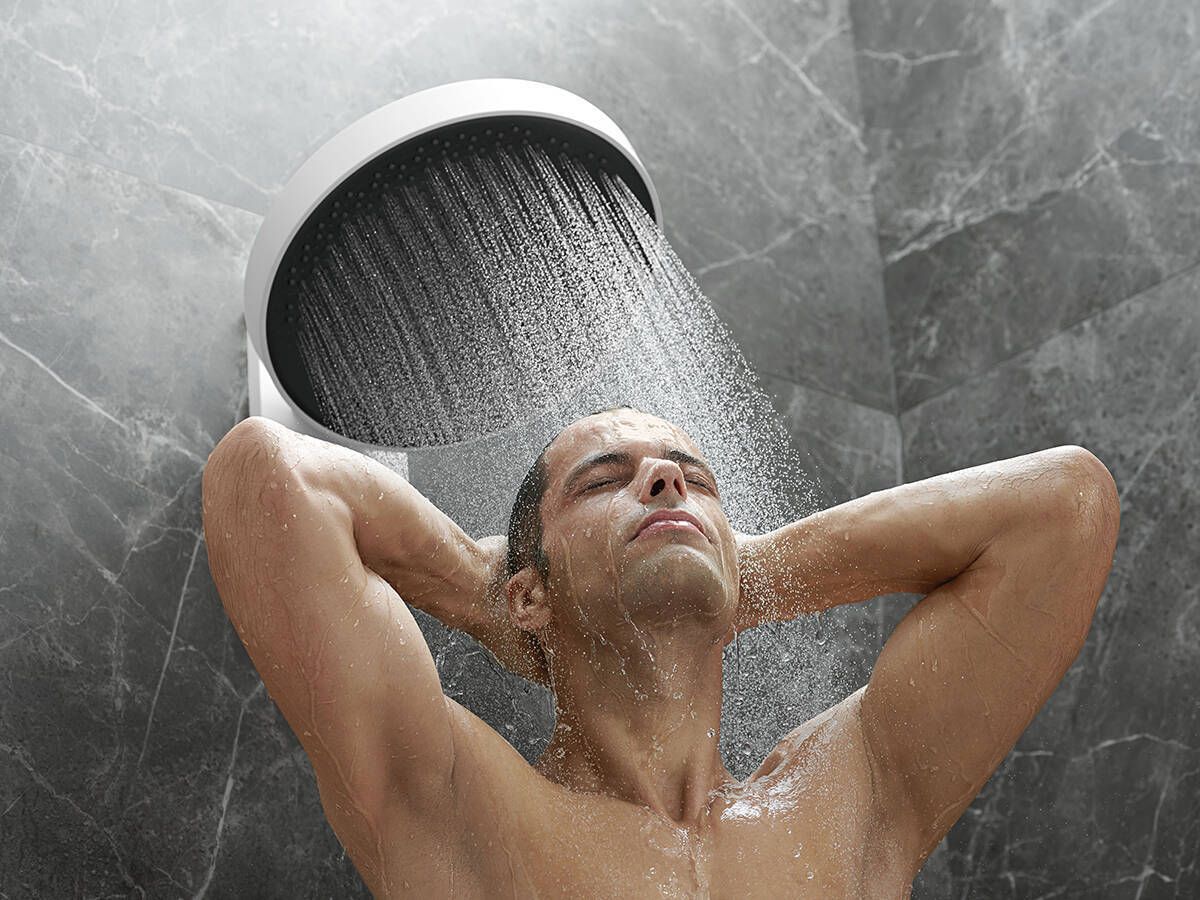 Product Quality prioritises the customers' health. They achieve this with carefully chrome-plated brass, phthalate-free plastics, or temperature limitations. All products comply with international drinking water standards and have all key approvals. In fact, many products by Hansgrohe fulfill far more than the required standards: Hansgrohe has higher requirements. They prefer to produce central components themselves - in their own foundry or the cartridge plant in the Black Forest, their original hometown.
Design Quality means functionality, ease of operation, durability, and beauty inside and out. To this day, Hansgrohe remains the frontrunner in form and function. Producing flawless bathroom products consistently, Hans Grohe has passed on to his descendants the undying belief: excellent design outlasts short-lived trends.
Manufacturing Quality has never been overlooked. In its production, Hansgrohe relies on top-quality materials, high-tech design, and precision work. Hansgrohe is also committed to environmental protection and good working conditions for its workforce. Sustainability and a high standard of quality are guaranteed. With around 80 % of Hansgrohe products manufactured in one country, "Made in Germany" is an integral part of their philosophy.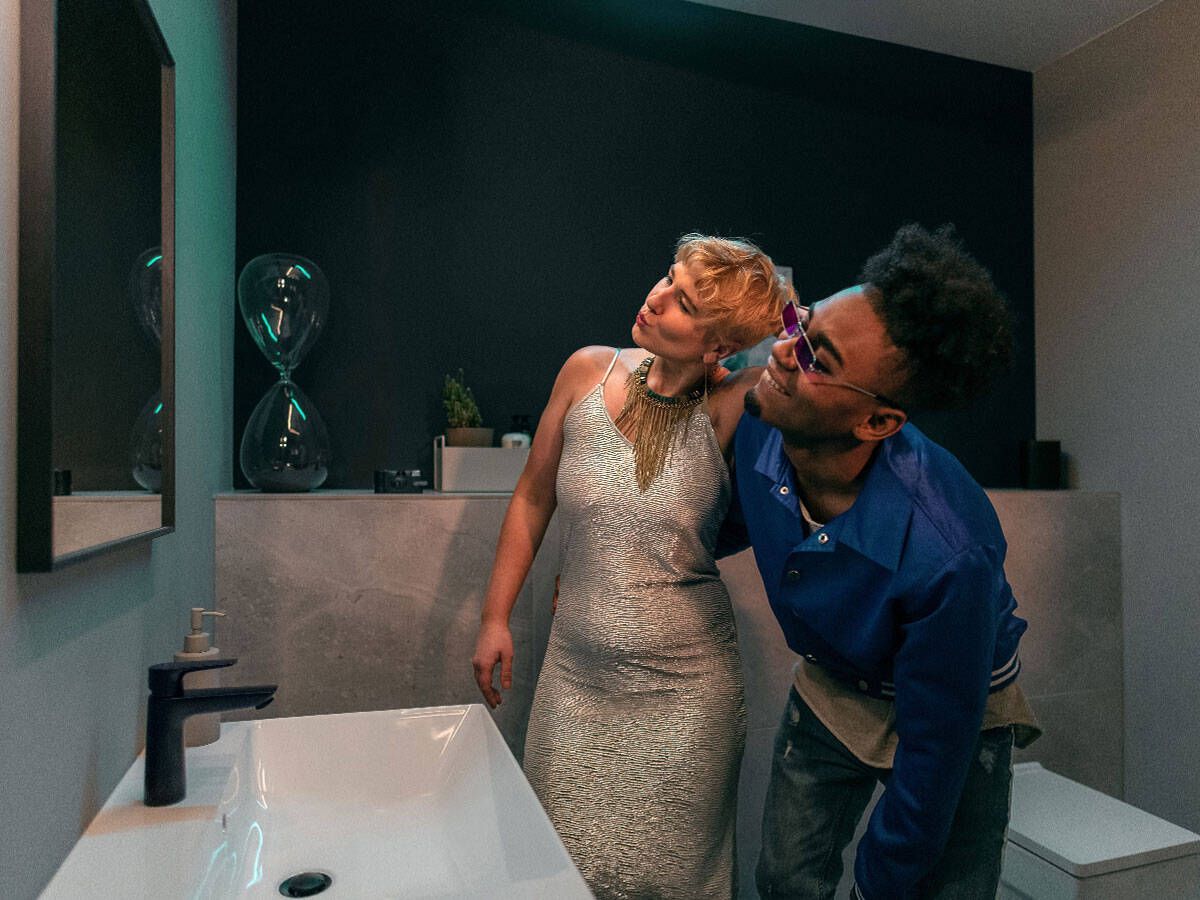 True to their ideology, Hansgrohe commissions independent testing and certification companies all over the world such as the TÜV or the DVGW, for example, with regard to scalding protection or safeguarding drinking water, conserving water and energy, safe operation or electronics. In this way, one can truly enjoy their high standards of quality, consumer and environmental protection.
Prize-Winning Design
Behind Hansgrohe exquisite and practical design is a long-standing collaboration with Phoenix Design, the exclusive designer team from Stuttgart. Phoenix Design has been shaping the face of Hansgrohe for more than 30 years. During these decades, Phoenix Design has designed all of the key products for the Hansgrohe brand. Products that are technologically and visually durable and can be manufactured as sustainably and efficiently as possible.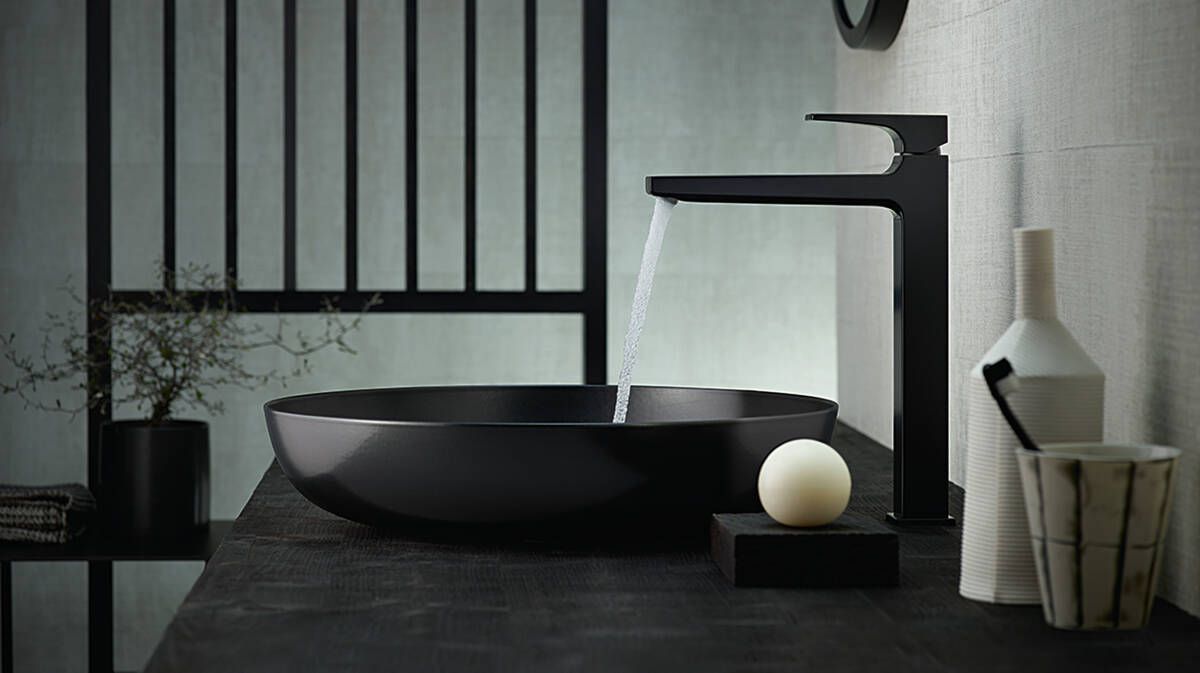 Whether modern, classic, luxury, or avantgarde: Hansgrohe and Phoenix Design have successfully won over 600 awards from 50 international design ceremonies. Distinct among them is iF DESIGN AWARD, a globally recognized trademark for outstanding design, which prized the innovative RainTunes shower system the significant 'Gold' award.
Other well-known awards include THE GERMAN DESIGN COUNCIL AWARD 2021, THE ICONIC AWARD 2021, and reddot winner 2021.
Hansgrohe provides the finest bathroom products with a splendid mix between design and functionality. Here, bathroom experience means more than bathing, because Hansgrohe strives to create the memorable experience that lingers in your mind throughout your everyday life.
For more information on Hansgrohe products visit DM HOME Thonglor 19, Monday through Sunday, 10:00 a.m. to 7:00 p.m., or contact at 02-3650789, and by e-mail at [email protected].
Contact us for a private assistance.
Source
Images by hansgrohe.com