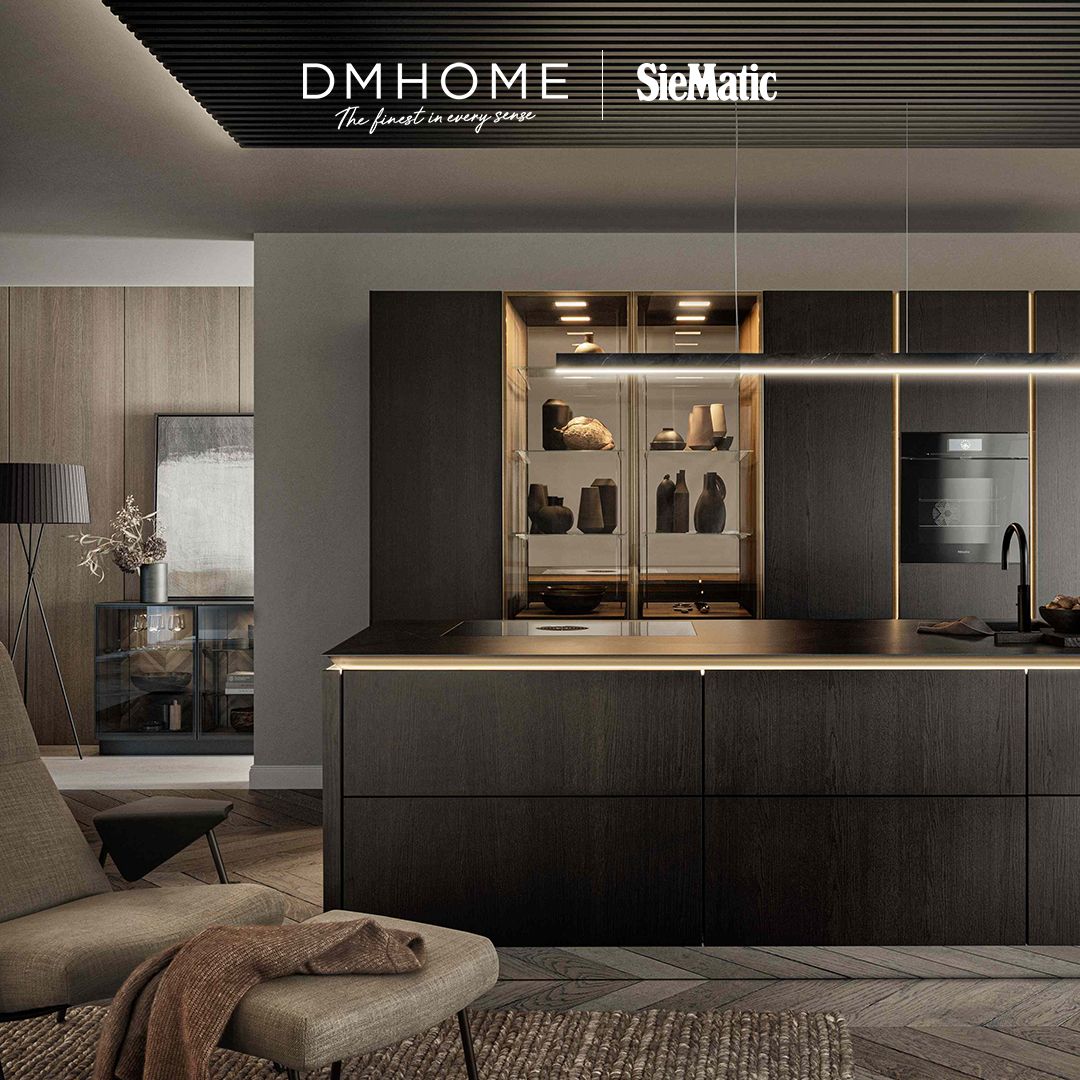 SieMatic SLX PURE - Beyond the Beauty of Luxury Kitchen
27 Jul '21
Luxury kitchens evolved through the times, as the need for ideal kitchen spaces evolved continuously. To cope with these changing needs of the kitchen and its users, SieMatic has designed and developed a new definition of the Luxury kitchen with SieMatic SLX PURE .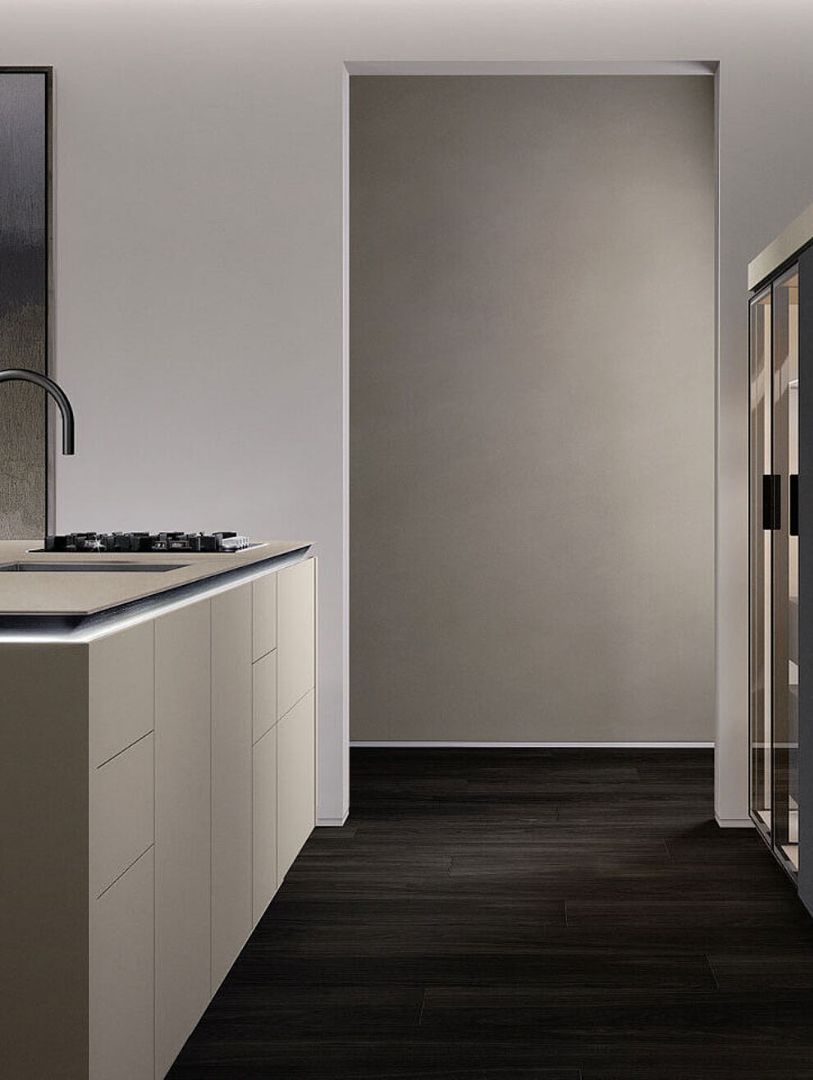 The Pinnacle of Handleless Kitchen
Established in 1929 by August Siekmann Möbelwerke, SieMatic reformed the design, functionality, materials and features of the modern kitchen throughout the years. These reforms led to the boldest design breakthrough in 1960 when SieMatic offered the original SieMatic 6006 - The world's first kitchen kit with an integrated recessed handle. Later in 1988, SieMatic introduced SieMatic SL - the kitchen kits without any handle or knobs attached. Over the decades, its distinctive design has been updated to reflect the times and has won many awards along the way.
SieMatic continues to uphold the tradition of Handleless Kitchen design in the twenty-first century with SieMatic SLX PURE - Timelessness, Handle-free, re-defined. Established with a redesigned recessed grip and delicate dimensions of only 6.5 millimetres for the optimum angle and the appealing form of the handle channel.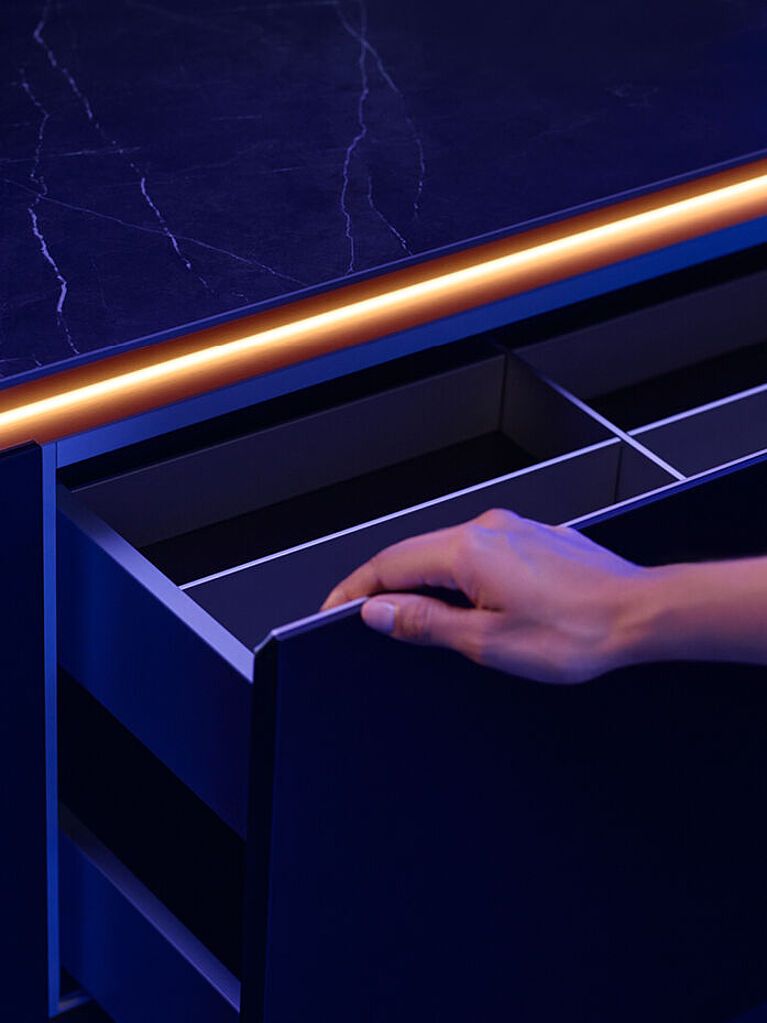 Weightless, Slim and Simplicity
When omission becomes an art form and simplicity an expression of refinement, SieMatic SLX PURE also follows this principle through its generous skilled treatment of surfaces and materials coupled with practically invisible functional elements. An example of which is the 6.5 millimetres slimline floating countertop combined with continuous recessed grip and sophisticated contours.
SieMatic SLX PURE is likewise influenced by light and lines, which come together in a unique symbiotic relationship thanks to the lighting strips that are delicately incorporated into the shadow gap of the recessed grip. These combinations produce a unique three-dimensional effect on smooth surfaces, accentuate the floating appearance of the countertop, and emphasize the harmonious proportions.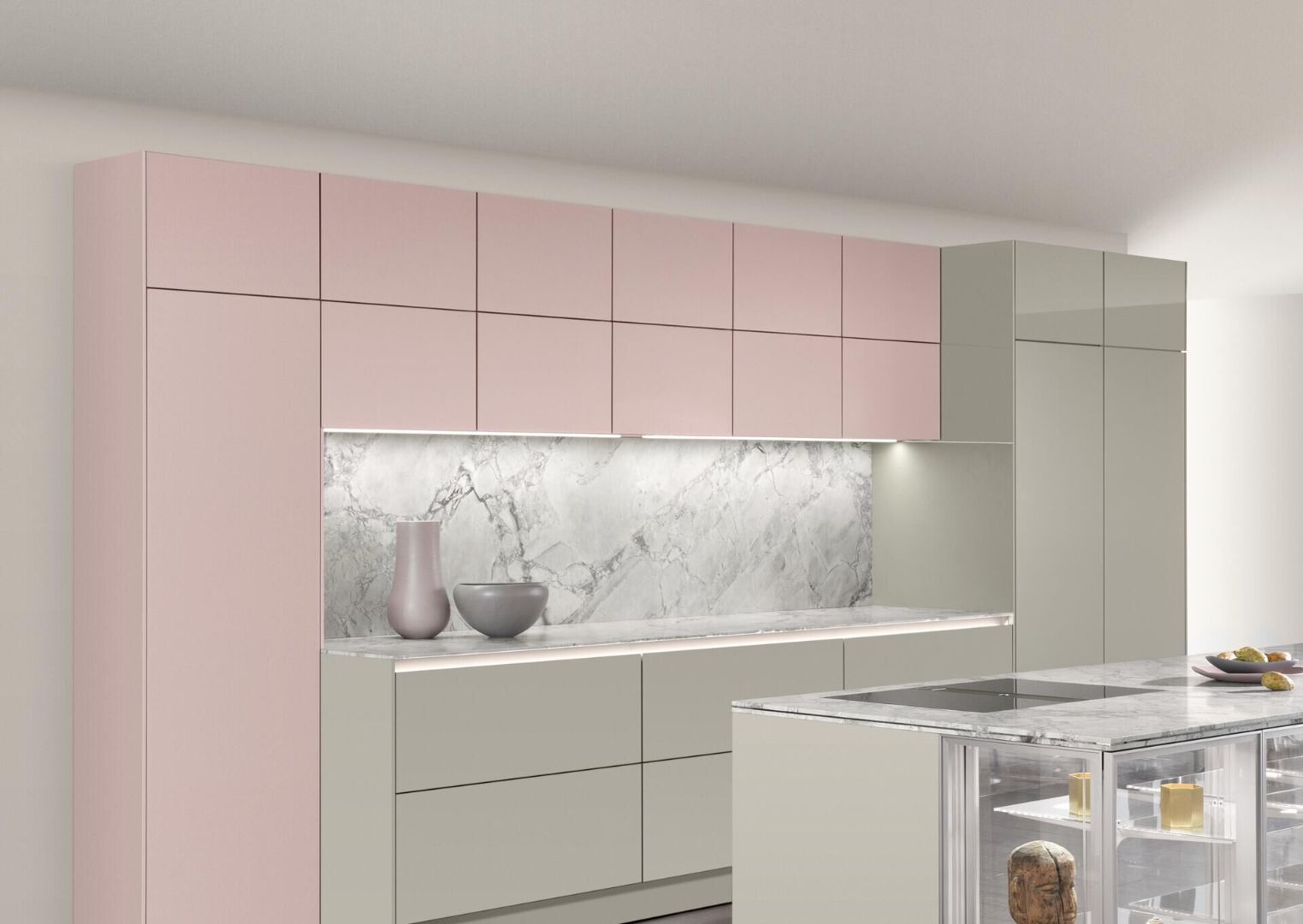 Also, SieMatic SLX PURE is engineered to be weightless. This design philosophy is embodied through the luxurious glass cabinets with pull-outs attached to the rear panel that appear to float in space. These cabinets include transparent doors and side panels, as well as adjustable glass shelves and delicate aluminium frames in anodized matte black, gold bronze, or stainless steel.
Handleless, but still handle every cooking needs
With a variety of natural and composite stones, created in thicknesses, lengths, and surfaces without seams that would otherwise be almost intolerable, our slimline floating countertop is gorgeous on the outside and the beast on the inside. The countertop is robust enough to handle any culinary activity, from everyday preparations to large-scale feasts.
The interior of SieMatic SLX also comes with unlimited possibilities. With their versatile furnishing elements, drawers offer room for supplies and tall items, and variability of the system elements creates nearly infinite options for arrangement. Combining it with distinctive SieMatic Interior System exclusive technologies such as the GripDeck drawer bottom provides elegant protection against scratches and keeps pots from sliding or drawers with an integrated USB charging station keep tablets and smartphones out of the way.
Perfection that fits anywhere
These compact glass wall cabinets of SieMatic SLX PURE may be utilised in a variety of ways, such as independent furniture, a fluid transition into the living room, or an eye-catcher at the kitchen's centrepiece.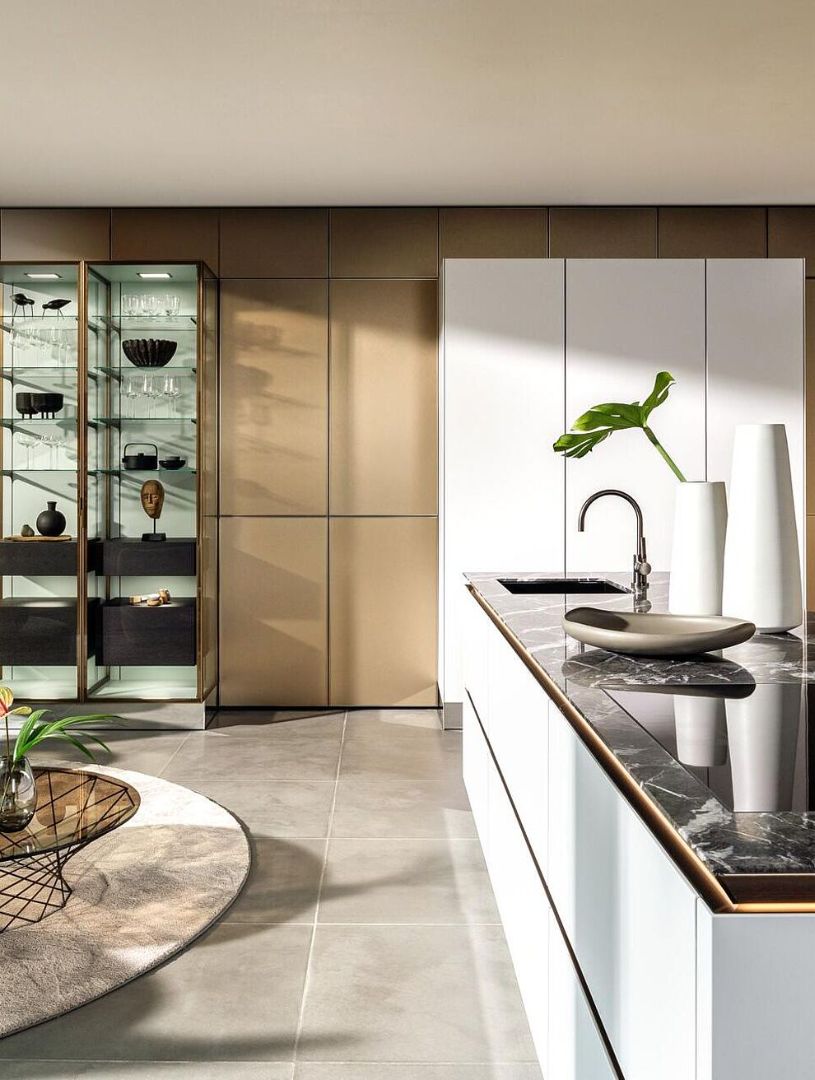 Furthermore, the transparent doors and side panels, as well as the variably positionable glass shelves of SieMatic SLX PURE, enable the kitchen and living room to blend to make one harmonic whole. When coupled with sensitively placed lighting elements and the storage that handles more than kitchen utensils, SieMatic SLX PURE become the crown jewels of the room.
Fully Customizable
Every SieMatic SLX PURE is unique. The plethora of materials, surfaces and colours form the basis of your interior and kitchen design. Whether tone-on-tone or with contrasting touches, an elegant veneer or striking metal. Whether satin matte or high-gloss lacquer in up to 1,950 special colours. Whether delicate or solid. Every composition yields a harmonious overall concept. And that, too, is unique.
Not only the outside, but it also reveals an intricately designed interior, with ample space for useful aids and elegant silverware alike. After all, together with the SieMatic interior design systems in wood or aluminium and like all drawers and pull-outs in the new SieMatic SLX PURE, they offer extraordinary freedom of design. These mixtures made SieMatic SLX PURE adaptable for any space and function needs
All SieMatic kitchens are designed by your SieMatic specialist precisely under your wishes, equipped and planned to fit your life perfectly. Only then do we build it tailored to your specifications. All SieMatic kitchens are 100% manufactured in Germany, assuring all its owners the strongest quality that would last throughout time.
Wherever you encounter the name SieMatic, you will get a comprehensive picture of what is recognized as timelessly elegant kitchen design and the best combination of master craftsmanship and state-of-the-art technology.
DMHOME is the exclusive distributor of SieMatic in Thailand. For sales & after-sales enquiries, please visit us at DMHOME Showroom Thonglor 19, from Monday through Sunday, 10:00 a.m. to 7:00 p.m., or contact at 02-3650789, and via e-mail at [email protected]
Contact us for a private assistance.
Images from Siematic Official