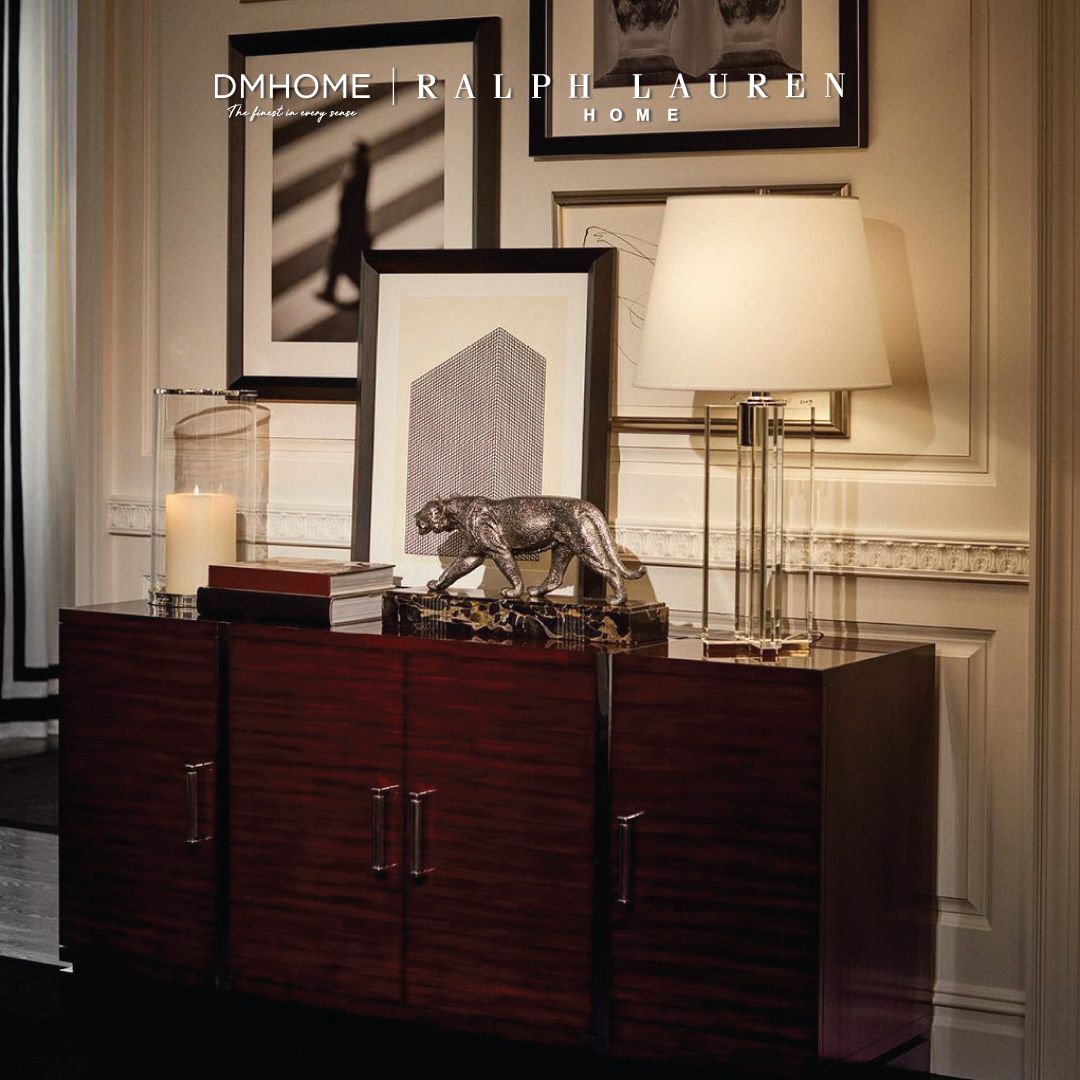 Timeless Style & Design: Ralph Lauren Home Modern Penthouse
20 Jul '21
Everyone must have heard of Ralph Lauren at least once in their lifetime. Today, this iconic brand surely signifies its legendary perfection across all of its expanded categories including apparel, accessories, home, fragrances, and hospitality.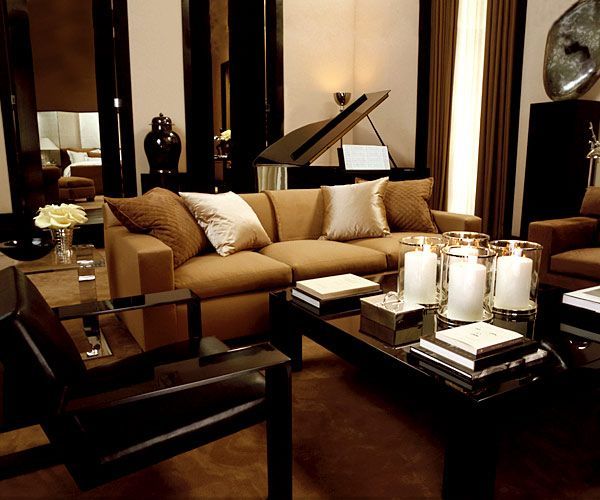 Being a global leader in premium lifestyle products, Ralph Lauren's reputation and distinctive image have been consistently developed across an expanding number of products, brands, and international markets for more than 50 years.
With an uncompromising spirit of innovation, Ralph Lauren always endeavors to dream big when it comes to designs and the ways they bring the World of Ralph Lauren to life. Each new look and every new dream is their opportunity to pioneer new ways to produce more responsibly and accelerate their commitments to sustainability as well as deliver an enhanced and more seamless connected retail experience for their consumers. This ambition led to the foundation of Ralph Lauren Home.
Debuted in 1983, Ralph Lauren Home was born from Ralph's frustration at the lack of choices and quality on the luxurious home furniture market. Many elements of Ralph Lauren Home's collection were inspired by Ralph Lauren's own Fifth Avenue penthouse apartment. Since then, Ralph Lauren Home has long been the standard-bearer for the comfort and luxury of contemporary American style. Drawing on a rich variety of influences, every season the brand creates collections that are designed to evoke a particular world.
All these experiences culminated into Ralph Lauren Home's new Modern Penthouse collection that was truly the masterpiece of luxuriously urbane standards in its ground-breaking aesthetic and design.
Art Deco Aesthetics
The Ralph Lauren Home Modern Penthouse's unique urbane style is inspired by Manhattan's skyline, which is the amalgamation of the past and the future of Art Deco aesthetics. Another inspiration is the famous Ralph Lauren's own Fifth Avenue penthouse apartment. As a result, this 17-piece collection is designed as a masterful coming-together of modern and Art Deco Aesthetics.
The best illustration of this is the rosewood 'Emery Desk.' Its elegant rosewood frame and cabriole legs are a nod to exaggerated shapes of Art Deco style, while its black leather top adorned with silver edging is sensibly sophisticated. Moreover, the desk recalls the delicate lines of Georgian furniture, a luxurious architectural style in the eighteen century.
'Modern Metropolis Sofa', coming with three comfortable white linen seats, features the Cote D'Azur wood finish along the track. The dark aesthetic brown wood creates a sense of belonging to the room. Matching with the sofa, 'Pryce Mirror,' a sleek silhouette, rendered in Santos rosewood, black lacquer, polished steel, and channeled leather, suggests a graceful sensibility of the immortal Art Deco.
Another signature piece is the svelte and shapely 'Pryce Occasional Chair.' With the exquisite cream cashmere, sumptuous shearlings, art deco-inspired wool throws, and silky organic sateen bed linens, The piece adds richness to the whole collection.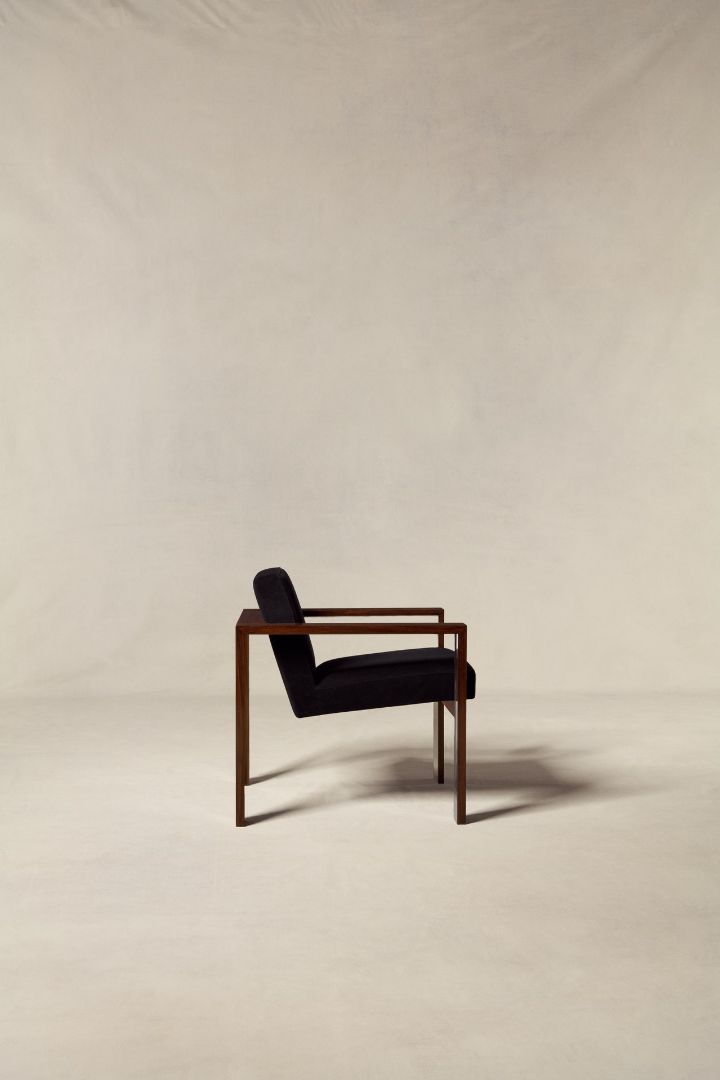 'Pryce Occasional Chair'
Throughout the collection, a dynamic play of materials continues—evidenced in a nightstand supported by an acrylic base and a bookcase with sleekly tiered black lacquered shelves. There are strong motifs of combining modern manufacturing techniques and traditional Art Deco ornamentation, reflecting strong inspiration from English and French style which have inspired American furniture to this day.
Timeless Design
Ageless design is undoubtedly the word used to describe Ralph Lauren Home Modern Penthouse. The modern yet classic style implies many creative inspirations behind each set that will fulfill your home flawlessly. The overall traditional style blends with a modern interpretation to create a consistent and fantastic characteristic.
'Parker Dining Side Chair' and 'Parker Dining Arm Chair' draw inspiration from the channeled leather seats of the 1955 Mercedes-Benz 300 SL, the classic car that was praised in 1999 as the sport car of the century. This stylish seat is revived to your dining room in a more plush and modern design.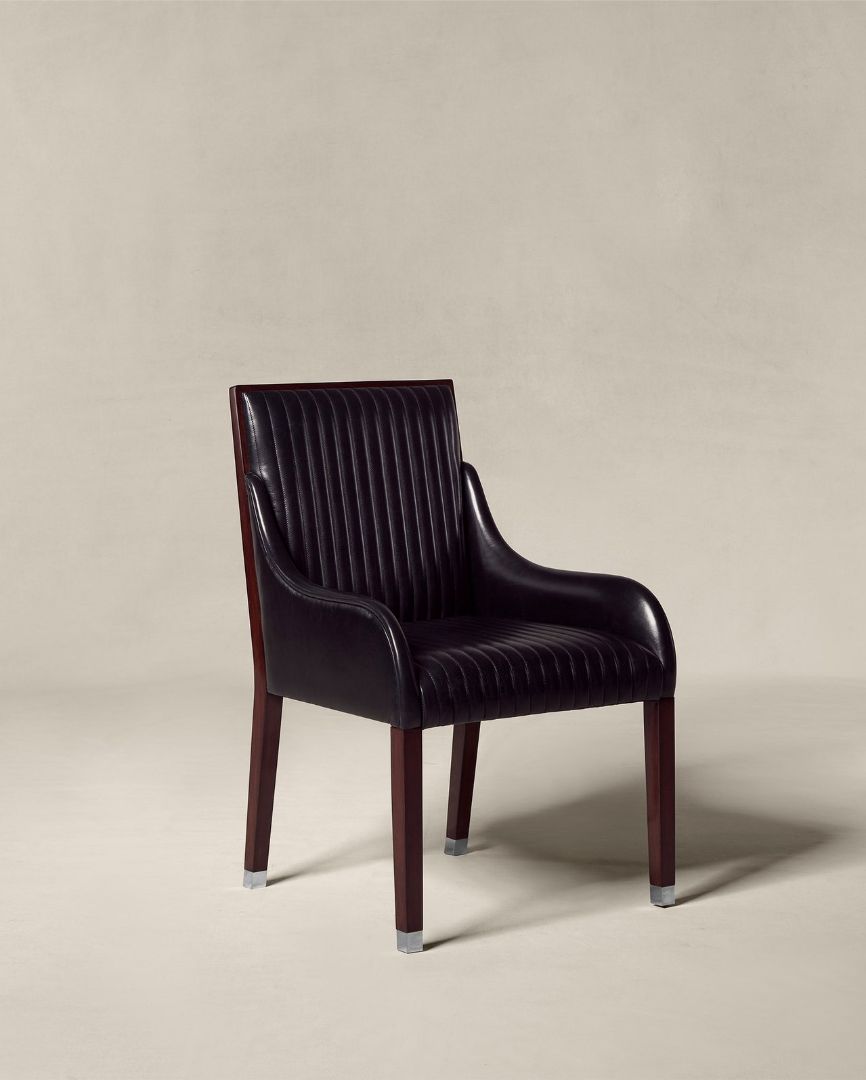 'Parker Dining Arm Chair'
Refining the set is 'Parker Dining Table', a distinguished table that is impeccably designed to express both luxury and minimality. The brown rosewood surface is smoothly distinct by a polished stainless steel base. This enormous presence will embellish any dining room with an atmosphere of sublimity.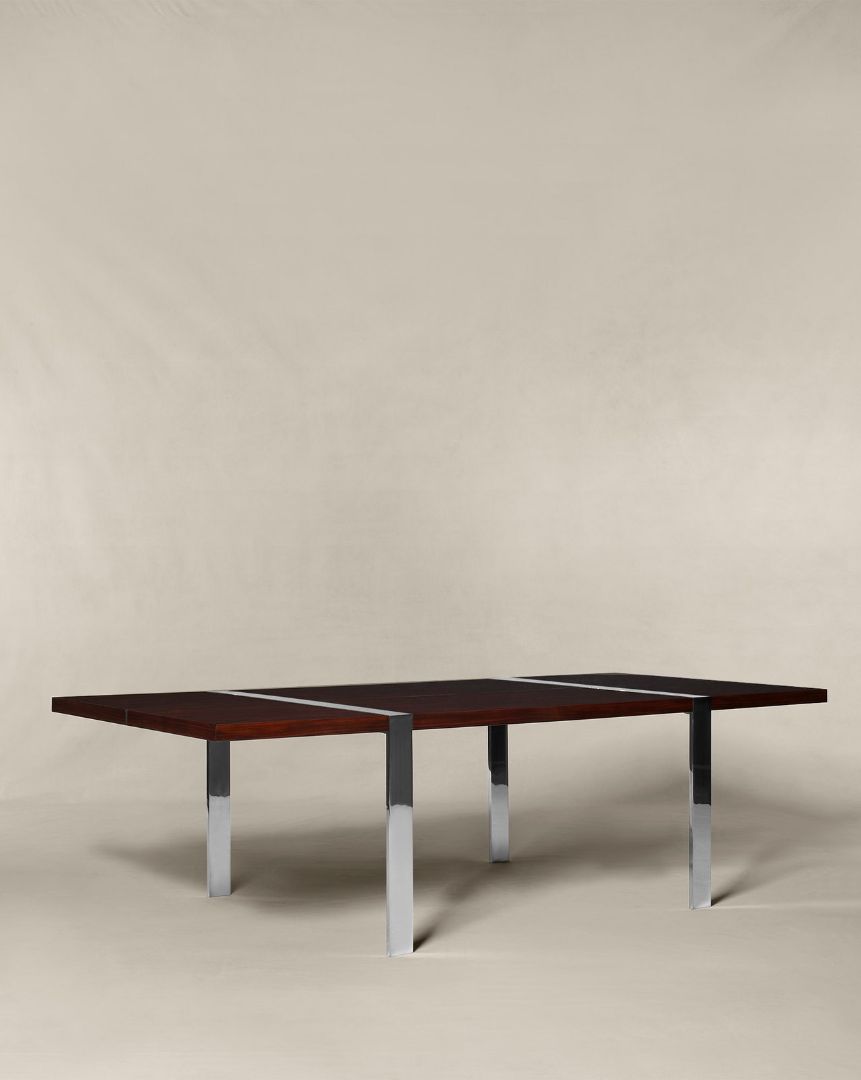 'Parker Dining Table'
Other standout designing pieces include the well-known 'Parker Side Table' and 'Parker Hall Table', an asymmetrical Nero Marquina Marble top with quartered Santos rosewood frame that reminds of the refreshing nature. 'Pryce Occasional Chair' epitomizes a true expression of modern sensibility, with the straight, artistic rosewood armpit and leg that create an architectural square.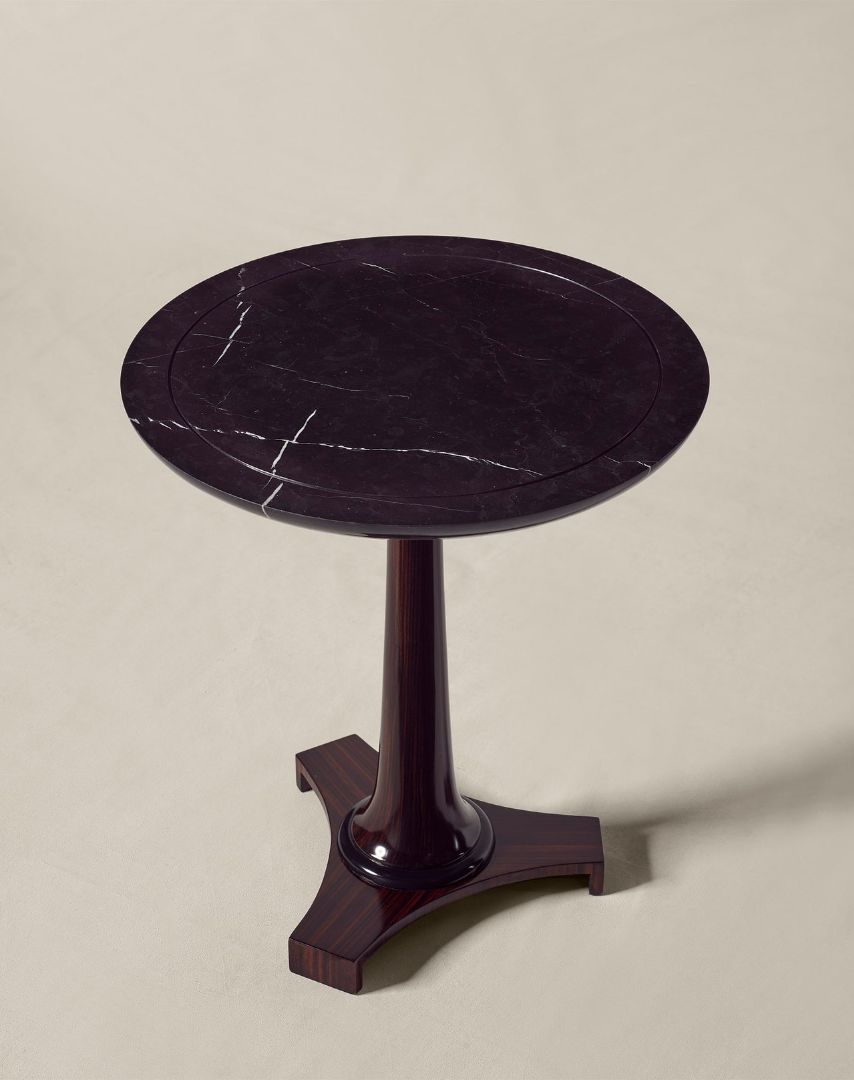 'Parker Side Table'
'Desert Modern Sofa' reflects modern popularity in using colorful palettes. The pillows are all in desert teak color, easing the mind with the sense of peaceful vacancy that is scarce in this contemporary world.
'Pryce Bookcase' bestows a sense of grandeur to your book collections. The Piano Black lacquered shelves and polish stainless steel supports can hold a multitude of books without provoking a slight disorder to the room. Furthermore, the bookcase's grand size will match your spacious and opulent living room. There is also 'Pryce Acrylic Nightstand' with Butler Silver handles and soft closing drawers that is a suitable choice for any fashionable party in your home.
Ralph Lauren Home has meticulously selected all materials with a purpose. They desire to create an excellent and tasteful home for those who are frustrated at the lack of choices and quality on the luxurious home furniture market. Thus, the Modern Penthouse collection embodies a distinctly Ralph Lauren style reworked for modern living.
This collection feels sophisticated and tailored. Warm, dark woods are a counterpoint to sleek chrome. When seen together, the pieces give the elusive layered quality that you often see in the homes of stylish, intellectual Italians who throw together their grandmothers' antiques with statement modern pieces — a crème de la crème of style.
For more information on Ralph Lauren Home visit Ralph Lauren Home's flagship showroom on the 3rd floor of Siam Paragon or at DMHOME Thonglor 19, Monday through Sunday, 10:00 a.m. to 7:00 p.m., or contact at 02-3650789, and by e-mail at [email protected].
Contact us for a private assistance.
Source
Image from architecturaldigest.com